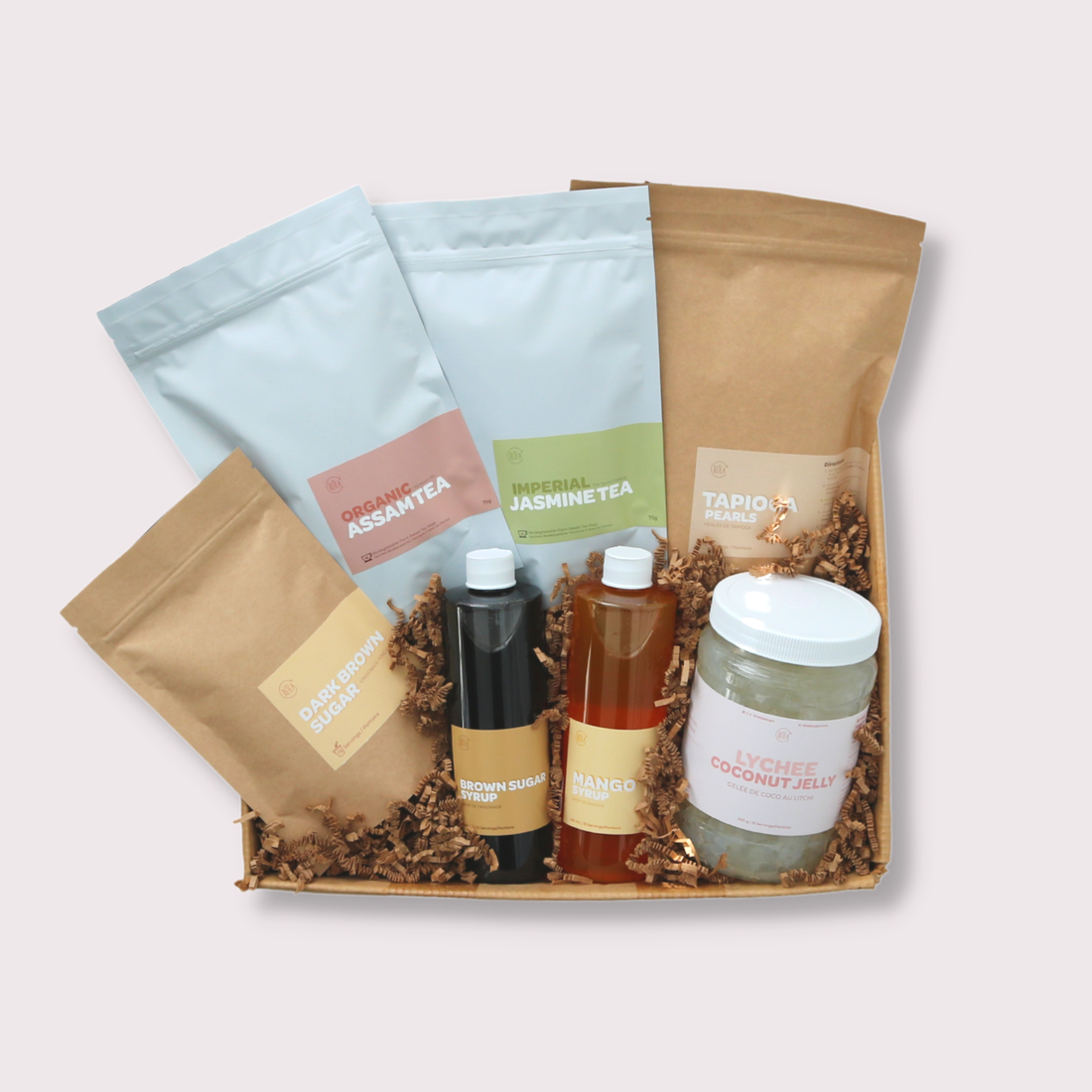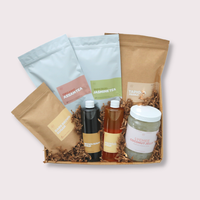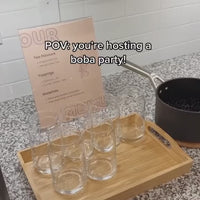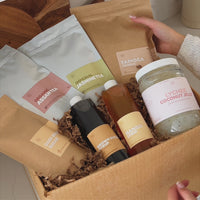 This party-size bubble tea bundle is PERFECT for holiday parties & gatherings. Includes 30 servings of our 2 best-selling flavours: Brown Sugar Milk Tea and Mango Green Tea. Comes with 2 delicious bubble tea toppings.
Read our guide to making bulk bubble tea! 
VEGAN & GLUTEN-FREE
Benefits:
🏡 Make and drink bubble tea sustainably in 5-10 minutes in the comfort of your own home!
💜 Make 30 servings of bubble tea for HALF the cost at a bubble tea shop! 
🎁 Perfect gift for your bubble tea-loving friend, family, or coworker. 
🥛 Lactose and gluten-free
♻️ All our packaging is eco-friendly and low-waste
Here's what you get (15 servings for each flavour): 
2 x Recipe Instructions Cards

Toppings

 

1 x Tapioca Pearls (645g) 

1 x Lychee Coconut Jelly (300g)

Syrups

1 x Brown Sugar Syrup (555mL) 
1 x Mango Syrup (555mL) 

Tea Bags

15 x Assam Tea 

Biodegradable 

Bags Ethically and locally sourced in Toronto.

15 x 

Imperial Jasmine Green Tea Biodegradable Bags

 

Ethically and locally sourced in Toronto.

1 x Dark Brown Sugar (180g) 15 servings only for tapioca pearls
30 x Paper Bubble Tea Straws (individually wrapped)
Ingredients:
Tapioca Pearls: Tapioca Starch, Water, Corn Starch, Food Additives (Caramel Colour, Guar Gum, Sodium Diacetate, Potassium Sorbate), Artificial Flavour
Lychee Coconut Jelly: 
Coconut, Sucrose, Water, Potassium Sorbate, Sodium Carboxymethyl, Cellulose, Lychee Flavour, Citric Acid, Xanthan Gum, Guar Gum.
Dark Brown Sugar: Sugar, Molasses.

Brown Sugar Syrup: Brown Sugar, Water, Fructose, Potassium Sorbate (E202).
Mango Syrup: Fructose, Sugar, Mango Juice, Citric Acid, Sodium Citrate, Xanthan Gum, Potassium Sorbate, Mango Flavour, FD&C Yellow No.5.
Jasmine Tea: Green tea, Jasmine blossoms.
Assam Tea: Organic Black Tea
Canada
FREE Domestic shipping on subtotals $75CAD+
$9.95 flat rate in Ontario
$12.95 flat rate in rest of provinces
USA
FREE shipping on subtotals $75USD+
Flat rate $12.95USD+ on Standard UPS Shipping (tracked)
Bubble Tea Kits
All food products have a shelf life of at least 3 months. Expiration dates can be found on our food product packaging.
Reusable Cups & Accessories
Everything is top-rack diswasher safe. However, we recommend handwashing where possible.
Premium & Authentic Ingredients
Get the same taste and quality just like the bubble tea stores right in the comfort of your own home.
Our ingredients are sourced from the same suppliers as the big chains. We tried and tested recipes so you don't have to!
Plus, our teas are ethically and locally sourced from a local business.