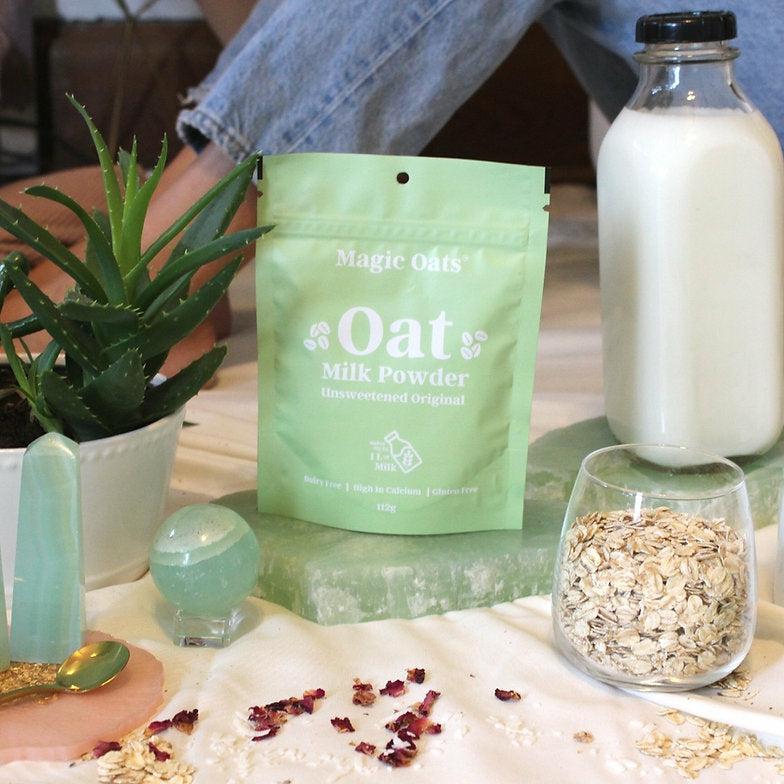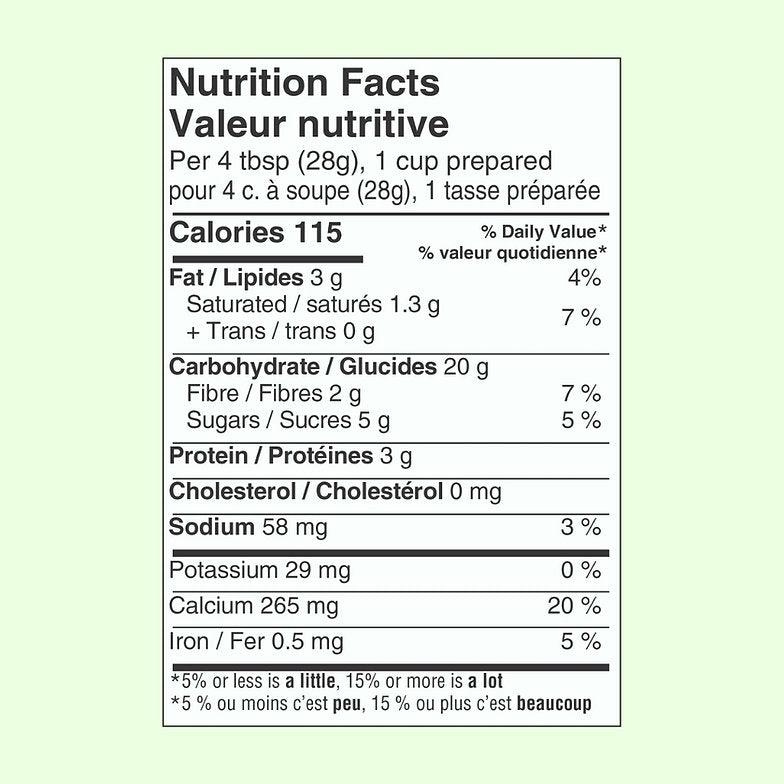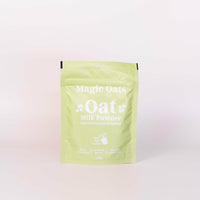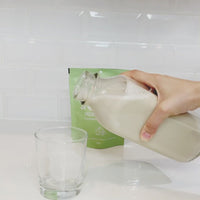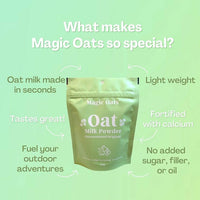 Make a cup of vegan milk tea with Canada's first oat milk powder! 
Use as a creamer powder directly in your tea or whip up fresh creamy oat milk in seconds. Unlike opened liquid oat milk that expires after 4-7 days, magic oats has a 1-year shelf life! Make as needed.
Vegan, gluten & dairy-free, no added sugars, fillers, or oils.

Details:
1 x 112g of Magic Oats™️ Unsweetened Original Oat Milk Powder 
Magic Oats is Canada's 1st Instant oat milk powder company. They are a woman-led Canadian business changing the way you think about oat milk.
Servings:
As a creamer: 16 spoonfuls (recommended to use 1-2 tbsps in a cup of tea) 
As oat milk: 4+ cups (recommended to use 3-4 tbsps with 250ml of water)
Benefits:
Makes oat milk in seconds
Acts as a vegan creamer
Fortified with highly absorbable calcium
Sustainable milk alternative
Ingredients:
Gluten-Free Oat Milk Powder: Certified gluten-free oats with nourishing protein, soluble fiber, and antioxidants.

Organic Coconut Milk Powder: Rich in healthy stimulating fat called MCT's that contain trace minerals.

Organic Inulin: Soluble prebiotic fiber to support gut health.

Marine Algae Calcium: Natural mineral source with highly absorbable seaweed-derived calcium with 72 trace minerals (20% Daily Recommendation per serving).

Himalayan Sea Salt: Naturally processed salt containing trace minerals.

To ensure your gifts arrive in time for the holidays, please take note of our recommended order deadlines:
🇺🇸 Within USA: Dec 8th, 11:59PM
🇨🇦 Outside Ontario: Dec 10th, 11:59PM
🍁 Within Ontario: Dec 13th, 11:59PM
Please note that we are unable to guarantee parcel delivery—these dates are recommended to us by our shipping courier!
Canada
FREE Domestic shipping on subtotals $75CAD+
$9.95 flat rate in Ontario
$12.95 flat rate in rest of provinces
USA
FREE shipping on subtotals $75USD+
Flat rate $14.95USD+
Bubble Tea Kits
All of our food products are shelf stable and don't expire until 2024 or later. Specific expiration dates can be found directly on our product packaging.
Reusable Cups & Accessories
Everything is top-rack diswasher safe. However, we recommend handwashing where possible.
Premium & Authentic Ingredients
Get the same taste and quality just like the bubble tea stores right in the comfort of your own home.
Our ingredients are sourced from the same suppliers as the big chains. We tried and tested recipes so you don't have to!
Plus, our teas are ethically and locally sourced from a local business.