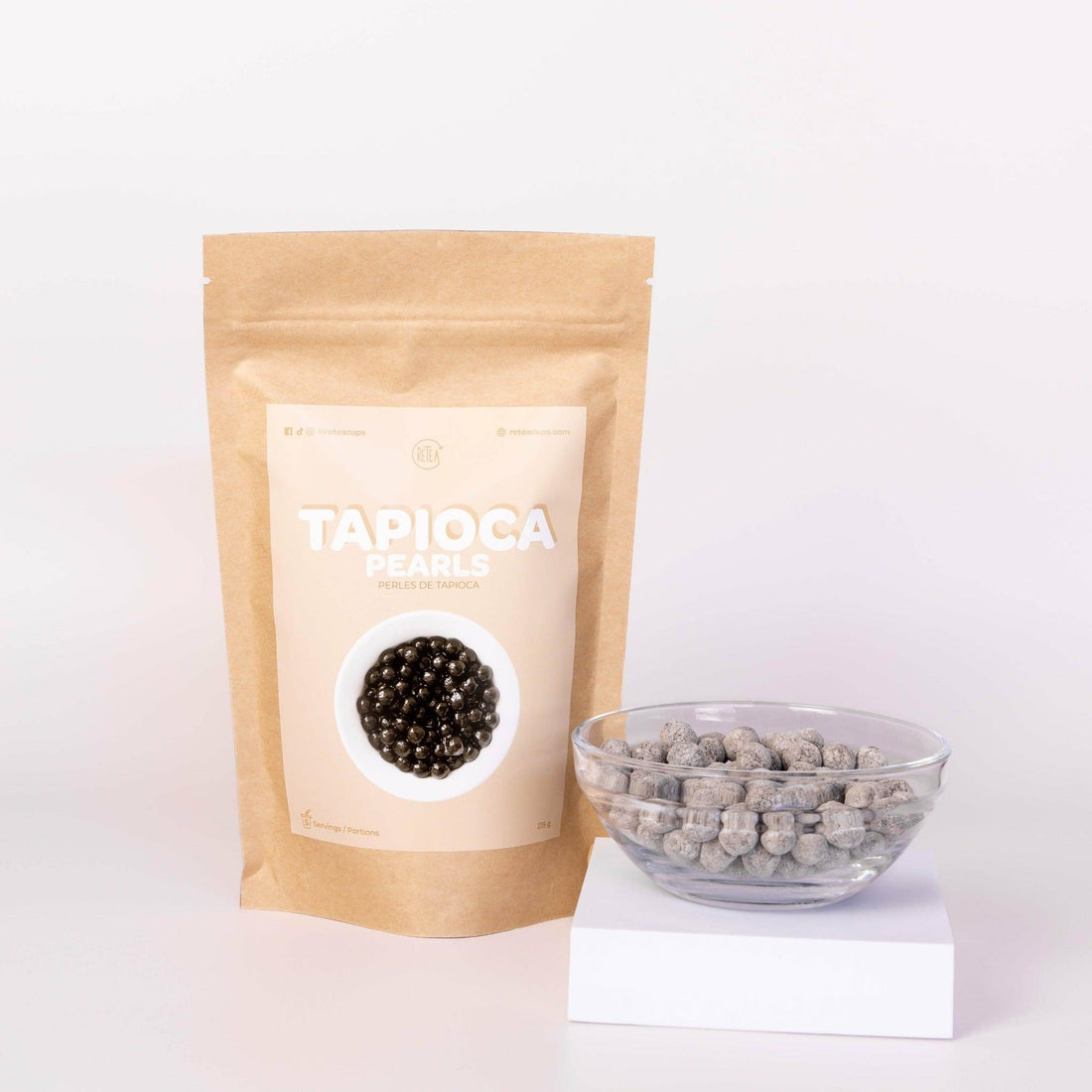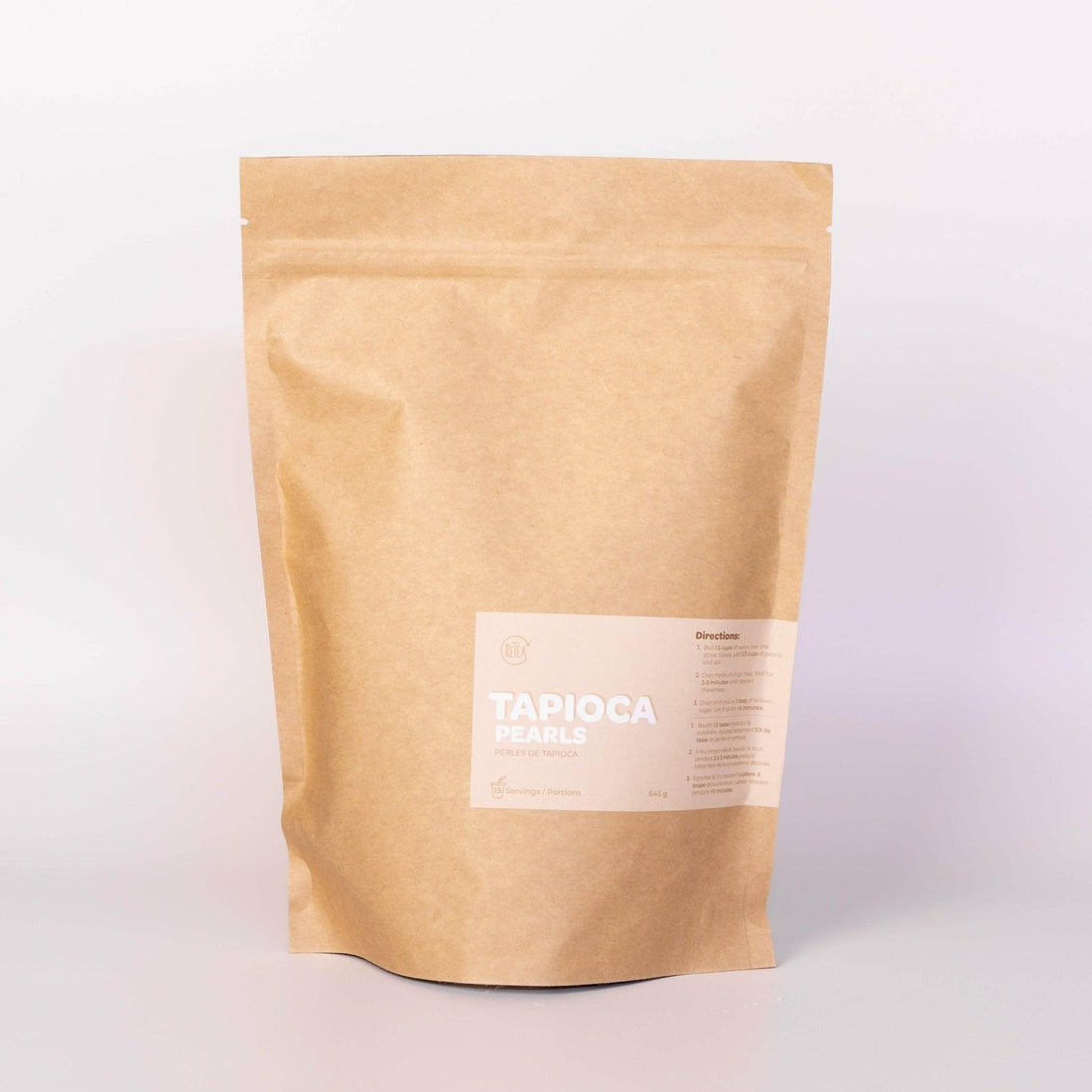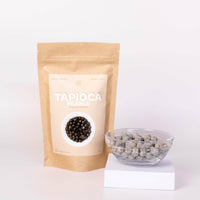 Making your own bubble tea at home can not be any easier with our quick-cooking boba pearls! Preparation time takes less than 5 minutes and you can sweeten them with our dark brown sugar. 
Our pearls will make your bubble tea taste just like your favourite bubble tea stores! Add them to tea, coffee, smoothies, juices AND MORE. 
Benefits:
🏡 Make your pearls in under 
5 minutes
in the comfort of your own home!
💜 Make 5 or 15
servings of tapioca pearls to add to your favourite drinks.
🎁 Perfect gift for your bubble tea-loving friend, family, or coworker. 
🥛 Lactose and gluten-free. Vegan!
♻️ All our packaging is eco-friendly and low-waste
Details:
- 5 Servings (215g) of uncooked 5-minute tapioca pearls (boba)
- 15 Servings (645g) of uncooked 5-minute tapioca pearls (boba)
Cooking Instructions:
Boil 1 1/2 cups of water for every 1/3 cup of tapioca pearls in a large pot. Add tapioca slowly into the boiling pot and stir lightly. Wait until tapioca floats to the water surface. Cover pot. Cook in medium heat for 2-3 minutes.
Turn off heat and simmer for another 2-3 minutes (adjust the time to soften tapioca to personal taste) Scoop out tapioca and rinse/rest in cold water for 20 seconds. Scoop out tapioca and mix in brown sugar or honey.
Tip: Once opened, put your tapioca pearls in an airtight container for a longer shelf life
Ingredients:

Tapioca Pearls: Tapioca Starch, Water, Corn Starch, Food Additives (Caramel Colour, Guar Gum, Sodium Diacetate, Potassium Sorbate), Artificial Flavour
To ensure your gifts arrive in time for the holidays, please take note of our recommended order deadlines:
🇺🇸 Within USA: Dec 8th, 11:59PM
🇨🇦 Outside Ontario: Dec 10th, 11:59PM
🍁 Within Ontario: Dec 13th, 11:59PM
Please note that we are unable to guarantee parcel delivery—these dates are recommended to us by our shipping courier!
Canada
FREE Domestic shipping on subtotals $75CAD+
$9.95 flat rate in Ontario
$12.95 flat rate in rest of provinces
USA
FREE shipping on subtotals $75USD+
Flat rate $14.95USD+
Bubble Tea Kits
All of our food products are shelf stable and don't expire until 2024 or later. Specific expiration dates can be found directly on our product packaging.
Reusable Cups & Accessories
Everything is top-rack diswasher safe. However, we recommend handwashing where possible.
Premium & Authentic Ingredients
Get the same taste and quality just like the bubble tea stores right in the comfort of your own home.
Our ingredients are sourced from the same suppliers as the big chains. We tried and tested recipes so you don't have to!
Plus, our teas are ethically and locally sourced from a local business.